Her complexion was described as "a rose blushing through old ivory;" she was beautiful, tall (5'7"), slender, and Chinese-American. The last fact kept her from attaining the highest echelon among Hollywood's pantheon of stars, but it did not affect her popularity, nor keep her from becoming a household name.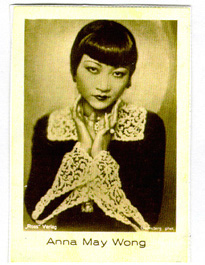 She was Anna May Wong, nee Wong Liu Tsong, a name which translates to "Frosted Yellow Willows," and she was born, appropriately enough, on Flower Street in Los Angeles' Chinatown on 3 January 1905, above her father's laundry.
A precocious child, early on she became fascinated with the "flickers," and would spend much of her spare time in nickelodeons watching the shadowy images which flashed on the screen, larger than life, in stirring melodramas or rambunctious comedies. Besides, there was plenty of filming going on in the streets of Los Angeles - the movie industry had created a boom town and Anna May loved to hang around the sets on location. On the screen, her favorite male star was Crane Wilbur, Pearl White's leading man in The Perils of Pauline (Pathe, 1914). (Interestingly, she would co-star with Wilbur on Broadway in 1930-31.) Her two favorite female stars were cowgirl/stuntwomen Pearl White and Ruth Roland.
Her tradition-bound father, Wong Sam Sing, strongly disapproved of Liu Tsong's preoccupation with the movies, which kept her from her studies. It eventually became a losing battle when the attractive youngster landed a bit part in the Nazimova film The Red Lantern, (Nazimova Productions, for Metro Pictures, 1919).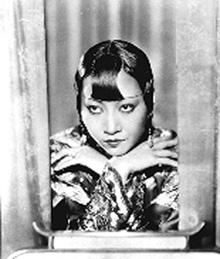 HER SILENT FILMS STRUGGLE
The laundryman's daughter chose two western names to go with her family name, and "Anna May" Wong was born. Although it would be two years before she received on-screen billing for her work, she appeared in the films of several top names of the day, including Sessue Hayakawa, Colleen Moore, and Priscilla Dean. Her father was still a stern presence, though; he insisted that she be accompanied by an adult to the studio, and if she was to be the only Asian in the cast, he would lock her in her room.
Finally, in September of 1921, with the release of Bits of Life (Marshall Neilan Productions,for Associated First National Pictures), the first anthology film, Anna May Wong's name first appeared before the public. In the episode entitled Hop, the adolescent actress played the wife of Lon Chaney's character, who bore a strong resemblance to her own father. It was directed by the talented Marshall Neilan, who had recognized the special qualities of this young hopeful when he had cast her previously in a bit role for Dinty (Associated First National Pictures, 1920). Unfortunately, Bits of Life is a lost film and Dinty only survives in three of seven reels.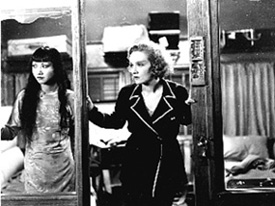 Anna May's next credit was another supporting role, in the John Gilbert vehicle, Shame (Fox Film Corp., 1921). The budding beauty got her first big break the following year, when she starred in The Toll of the Sea (Technicolor Motion Picture Company, for Metro Pictures, 1922), the first true Technicolor feature to be made in Hollywood.
She gave a remarkably mature and restrained performance in this variation on Madame Butterfly. Receiving a good deal of attention, the film made money and should have started Anna May on a starring career, but instead she followed it with supporting roles in a lurid melodrama directed by Tod Browning, Drifting (1923) and the western Thundering Dawn (1923), both for Universal.
One result of her work in The Toll of the Sea was her being chosen by Douglas Fairbanks for the part of the Mongol Slave in his lavish fantasy, The Thief of Baghdad (United Artists, 1924). While only a supporting role, it was an important one, and garnered more laurels for Anna May, but still no offers for leads.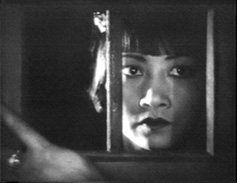 The still teen-aged actress never lacked for work; despite appearing only in supporting roles, she appeared in everything from a serial, The Fortieth Door (Pathe, 1924) to two-reel comedies, The Honorable Mr. Buggs (Pathe/Hal Roach, 1927) in the next few years. Although she also appeared in Paramount's sparkling version of J.M. Barrie's perennially popular Peter Pan (Famous Players-Lasky, 1924) as "Tiger Lily, Chieftainess of the Indians," the part called for only a few scenes.
The year 1925 saw Anna May as a dancer in a play in a Technicolor sequence near the beginning of His Supreme Moment (Samuel Goldwyn Productions, for First National), a Ronald Colman vehicle produced by Samuel Goldwyn, and as a vamp in the Raymond Griffith comedy, Forty Winks (Famous Players-Lasky/Paramount).
The following year brought more undistinguished roles, but included a film with a checkered and mysterious history. The Silk Bouquet was produced by an outfit called Fairmont Productions and released in June. In January of 1927, the title was changed to The Dragon Horse and was not heard of again. The director and most of the cast are unknown. From the two titles, it can be conjectured that this is an all-Chinese production, made specifically for Chinese audiences, much as the "race movies" made for all-black audiences. Accurate records of race films are scarce to none.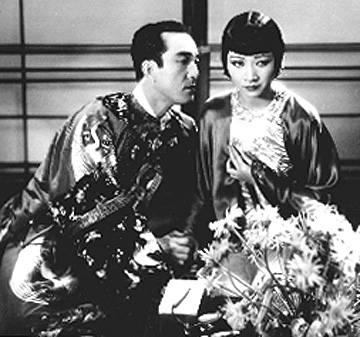 In 1927 Anna May ran the gamut of studios, from Tiffany to M-G-M, as she added to her list of credits. Her best films that year were Mr. Wu for M-G-M, starring Lon Chaney and Rene Adoree, who were made-up to look Asian, and Warner Bros.' Old San Francisco, a melodrama which also featured Dolores Costello, Warner Oland, and the San Francisco earthquake of 1906.
It was at the latter studio the next year that the ambitious Asian lady became fed up with Hollywood. For years, heavily made-up Caucasian actors had been playing Asians on screen, but recently, a young redhead from Montana seemed to be cornering the market in those roles. So when Anna May was cast in support of Myrna Loy in The Crimson City (Warner Bros., 1928), it was the last straw for the twenty-three-year-old Chinese beauty. Like other talented non-whites before her, she made the move to more tolerant Europe.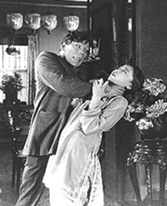 To read what happens to her when she moved to Europe and eventually returned back to the U.S., please click HERE.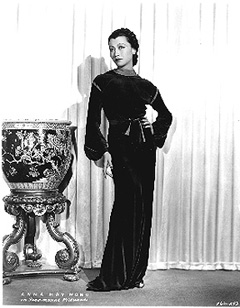 As a final note: Anna May Wong is "A Legacy Yet To Be Rediscovered"
Anna May Wong's contribution to show business is a unique one; she was the first Asian female to become a star, achieving that stardom at a time when bias against her race was crushing. With determination and talent allied to her exotic beauty, she remained the only Asian female star throughout her forty-year career, never fully overcoming all prejudices in maintaining that position. Perhaps the rediscovery of her art will elevate her star to the pantheon of great performers and serve as a guiding light to Asian performers who still struggle to find their rightful place.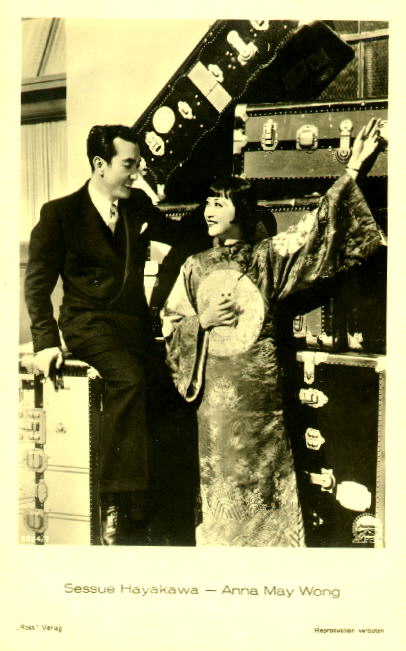 Her official website can be found HERE, Robert Payne's illuminating article (click HERE & go to the "Arts and Entertainment" section) and a review of Toll of the Sea provides invaluable perspectives on her career.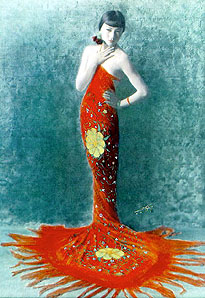 A straight-ahead biography on her can be viewed by clicking HERE. A listing of her fifty-four (54) films are listed HERE.
If you want to hear how Anna May Wong felt about her career, background and her life in general, just click HERE. You will be amazed how life hasn't CHANGED since the time that she was acting.
There is the same stigma and lack of roles available to Asian / Asian Pacfic American actors (male and female, just note what Sessue Hayakawa had to do during the same period of time)!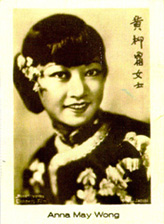 Just note television's lack of diversity that still exists in the 21st century, despite the efforts of the Asian Pacific American Media Coalition, and the prevailing Asian stereotypes that exists in films such as Romeo Must Die!
Anna May Wong's life and career is something that is important for all who value greatly the Asian / Asian Pacific American communities' many artists and what we can all contribute!
Click HERE to read abuut an upcoming film on Anna May Wong.
If you have any questions regarding the content, please contact Asian American Artistry
site design by Asian American Artistry
Copyright © 1996-2003 - Asian American Artistry - All Rights Reserved.