The student (Vili Faulaau) was/is involved with in illicit relationship with his 37 years old school teacher - statutory rape and serving a 7 ˝ year term at Gig Harbor - a women's state prison by statutory rape" or "rape of a child," where consent is irrelevant. Laws make no distinction between male and female perpetrators, or male and female victims. Yet we usually we think of sex offenders as men, and usually they are.

RICE V. CAYETANO
On April 25, 1996, Harold Rice, a white rancher, challenged the voting restriction as unconstitutional under the 15th Amendment. The case went to the Supreme Court and in early 2000, it ruled favor of Rice.
According the majority opinion, a state may not use race or ancestry as the basis for special voting privileges, even for the purpose of righting historical wrongs against native peoples. Under the decision, Hawaii's practice of allowing only Native Hawaiians to elect the OHA trustees was found unconstitutional.
The Hawaii Advisory Committee's report comes in the wake of the U.S. Supreme Court's Rice v. Cayetano ruling last year that the Hawaiians-only voting requirement for the Office of Hawaiian Affairs was unconstitutional racial discrimination. Listed HERE are the questions that were asked of the Supreme Court judges.
The Supreme Court heard Rice vs. Cayetano on October 6, 1999. The court ruled against The State of Hawaii on February 23, 2000.

HOTMAIL WAS FORMED
Sabeer Bhatia and Jack Smith founded Hotmail in 1996, one of the Internet's first Web-based e-mail service providers on $300,000 then sold to Microsoft for an estimated $400 million.
1996

PROPOSITION 209
This California Civil Rights Initiative passed the November ballot. The proposition seeks to end gender and racial preferences, thus ending affirmative action. It is currently under appeal. Times Magazine's "Man of the Year" is renown AIDS researcher David Ho.

GARY LOCKE - 1ST ASIAN AMERICAN GOVERNOR ON THE MAINLAND
Gary Locke elected governor of Washington state, the first Asian on the US mainland

NATIONAL ASIAN PACIFIC AMERICAN WOMEN'S FORUM IS FORMED
At the 1995 United Nations Fourth World Conference on Women in Beijing, China, over 100 Asian American women gathered to meet, share experiences, and build connections to link work in the United States. This meeting served as a catalyst to organize a vehicle to forward a progressive Asian American and Pacific Islander women's agenda. For a year following the Conference in Beijing, dozens of women in the United States organized and outreached across the country. This effort culminated in NAPAWF's Founding Gathering: From Identity to Action, which took place in Los Angeles on September 21 and September 22, 1996.
1996

RACE-TARGETED THREATS & BEATINGS
In San Francisco, Vietnamese American families in housing projects tell of race-targeted threats and beatings. There are 188 hate crimes against Asians in California in 1996, according to the state attorney general's office.
1996

WHITE GUNMAN STATED "I KILLED A JAP AWHILE AGO"
Vietnamese American Thien Minh Ly, a 24-year-old master degree graduate of Georgetown University and a former student at UCLA, is stabbed to death March 3 by two white supremacist types, as described by police. Investigators say one suspect, Gunner J. Lindberg, bragged to a friend, Oh, I killed a Jap a while ago.

HATE CRIMES THROUGH THE INTERNET!
UC Irvine undergraduate Richard Machado, himself a newly naturalized citizen from El Salvador, in September circulates an e-mail to about 60 Asian American students, blaming them for crime, filth and what he says is the unpopularity of the school. I personally will make it my life career to find and kill every one of you personally, says the message. The incident leads to the first prosecution of a hate crime committed through the Internet. Machado is sentenced to serve one year in jail and one year probation. After not complying with the terms of the latter, he is ordered to spend four months in a halfway house.
1997

ANTI ASIAN CRIMES INCREASED IN 1996
The National Asian Pacific American Legal Consortium's hate crime audit cites 534 suspected and confirmed anti-Asian incidents in 1996, up from 458 in 1995. California's attorney general counts 226 hate crimes against Asian Americans.

BILL LANN LEE IS APPOINTED AS ASSISTANT ATTORNEY GENERAL
Lee is a native New Yorker whose parents were Chinese immigrants. Despite facing tough discrimination and obstacles, Lee graduated magna cum laude from Yale University in 1971. He attended law school at Columbia University. For the next 23 years, Lee came to be known as one of the leading civil rights attorneys in the U.S. On December 15, 1997, he was appointed to the position of Assistant Attorney General for Civil Rights, the highest civil rights position in the federal government.
1997

TIGER WOODS
Tiger Woods, whose mother is Thai and father is African American, wins Golf's Master Open.
1997

NaFFAA IS FORMED
For the first time, over 1,000 Filipino American leaders and members of several community, cultural, business and political groups have reached an agreement to form a national federation (The National federation of Filipino American Associations - NFFAA) which will unite all 3,000 national, regional and local Filipino organizations from all over the U.S.
Alex Esclamado (who fought to have Filipino War Veterans receive their due GI benefits), former publisher of the Philippine News and National President of Filipino American Political Action was elected Chairman. The Vice Chair is Gloria Caoile, Special Assistant to the President of American Federation of State, County and Municipal Employees (AFSCME) and Executive Vice President of the Asian Pacific American Labor Alliance. Jon Melegrito, President of the Philippine American Heritage Fderation, was appointed as Executive Director.

FAIR TREATMENT OF ASIAN / ASIAN AMERICANS IS LEGAL!
AJR 38 was introduced in response to negative media coverage and political rhetoric directed at Asian American involvement in last year's elections. The actions of a new Asians were applied in broad brush fashion to all Asian Americans. Asian American community leaders called for fair and unbiased treatment of Asian Americans during the hearings. Concerns have been raised in recent months relative to reputed incidents of violence, harassment, and threats against Asian and Pacific Islander American political candidates and organizations. For the complete wording of the bill, please click HERE
1997

DENNY'S INCIDENT
Six Asian American students and their white companions say they are denied service at a Denny's in Syracuse, N.Y., on April 11 and are later beaten up by white patrons. Prosecutors eventually decline to pursue the case; a civil suit is still pending.
1997

TAKASHI YASUHARA IS CHARGED!
Takashi Yasuhara, 57, is charged under the federal hate crime law in connection with threats made to a white woman married to an African American. Police say he told the 26-year-old woman that her husband would be killed and his sexual organs cut off and sent to her.
1997

HATE CRIME IN SONOMA COUNTY
The fatal shooting of Kwan Chung Kao in April by Rohnert Park police galvanizes Asian Americans in Sonoma County and elsewhere. Officer Jack Shields and Mike Lynch claim that Kao, who was drunk and waving a broomstick, was shot because they thought he was a martial arts expert. Although community activism helps pressure Sonoma County authorities to investigate, District Attorney Mike Mullins in June clears officers of criminal charges. On the Chinese New Year, Jan. 28, 1998, the U.S. Department of Justice announces that it will not file charges due to insufficient evidence.

JOHNY CHUNG IS CONVICTED OF ILLEGAL ASIAN CAMPAIGN FUNDS
Johnny Chung, a Taiwan-born American citizen, gave nearly $400,000 to Democrats from 1994 to 1996, including $100,000 from a Chinese military intelligence officer, and visited the White House nearly 50 times, often with Chinese business clients. After cooperating with prosecutors, Chung was sentenced in December to five years' probation. He has also deveoped a website that shares his side of the story.
1998

AMY WONG WINS MS. DEAF CALIFORNIA!
Miss Deaf America 1998-2000 on Friday evening, July 10, 1998 during the 44th Biennial Conference of the National Association of the Deaf (NAD) in San Antonio, Texas. Amy Wong is the first Asian-American to win the title.
1998
NISEI HONORED AT BASEBALL'S HALL OF FAME
In 1998, 15 Nisei players (including Henry Honda, who was interned while playing for the Cleveland Indians) were formally honored by Baseball's "Hall of Fame." A traveling exhibit - "Diamonds in the Rough: Japanese Americans in Baseball" - headed by Kerry Nakagawa, chronicles Japanese American baseball.
In Fresno and other cities in the West Coast, baseball professionals such as Lou Gehrig, Babe Ruth, Joe DiMaggio, Ted Williams and Jackie Robinson would come to compete in the exhibition games against the Japanese American baseball leagues.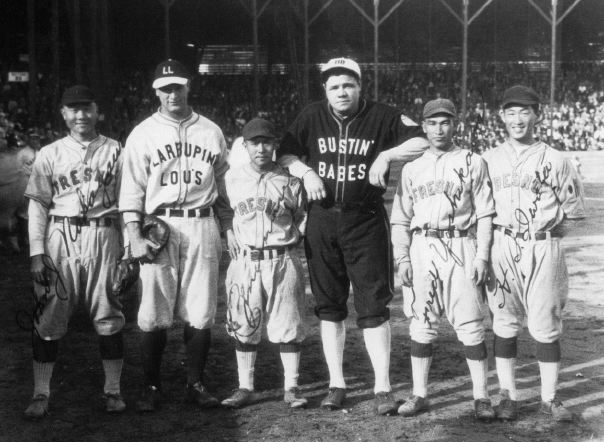 Nisei Baseball roots started in Hawaii in 1899, with the Excelsior Team in Hawaii, with Reverend Takie Okumura. It came to the mainland in 1903 in San Francisco, the Fuji Athletic Club with Chiura Obata - whose son built Pac Bell Ballpark, Enron Field, Comerica, Camden Yards, Jacobs Fields and others.
four of the most influential men in the Japanese American baseball experience: Kenichi Zenimura ("Father of California Japanese Baseball League), "Fibber" Hiriyama (pioneered baseball in California and abroad in Japan), George "Hats" Omachi (known analytical approach and passion for the game), and Tsuneo "Cappy" Harada (San Francisco Giants' special assistant in the scouting and player personnel department for 23 years.
The Golden Years between 1920 - 1941 were the heyday of Japanese American baseball. With the rise of the America-born Nisei generation, baseball activities grew to new heights, reflecting a renewed optimism in finding a place in America. There were other Asian American baseball teams that existed during these times and portrayed in films.

TRIBUTE TO WWII'S CHINESE AMERICAN SOLDIERS
On October 26, 1999, of Congressional Record, a "Day of Recognition" for Chinese Americans veterans of WWII - brave men and women (more than 20,000 Chinese Americans served in the U.S. Armed Forces during the war, in almost every imaginable capacity) who served with pride during that time. In addition, The Organization of Chinese Americans, together with the Asian Pacific American Studies Program of the Smithsonian Institution, is sponsoring the world premiere of the documentary `We Served with Pride: The Chinese American Experience in World War II'.

PENNY CHANG IS EXECUTED BY STALKER
Penny Chang, a fifteen years student at Shaker Heights Middle School, was stalked and executed by a 21 years old white male who thought that her family hasn't "suffered" enough and rejected his advances.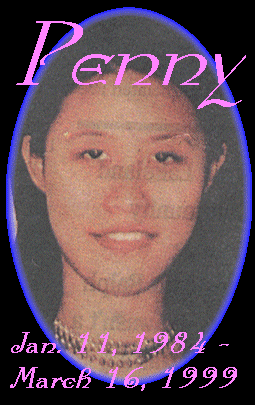 Penny was shot while walking to school with a friend. Arrested for her murder was Scott C. Strothers, 21, who walked up to Penny and shot her several times with a semiautomatic weapon across the street from a police station. After firing an initial burst, the murderer fired again when she was on the ground. "He just walked up to her while she was lying face down and shot her like two more times, right in the back," Joel Maurer, a witness, told WJW-TV.
What's ironic is that the murderer was able to obtain a gun despite being on parole for a misdemeanor and being treated by psychiatrists, prompting additional gun safety legislation.
In addition, she had received 60 pages of threatening e-mail and been harassed on the phone from Scott Strothers.
The police chief heard the shots while sitting in his office and ran outside to find Penny on the sidewalk suffering from several wounds. She was pronounced dead two hours later at the hospital. Two police officers who had been inside a nearby coffee shop and an officer on patrol already were on the scene when the chief arrived and had taken Strothers into custody.
Family members say over the last eight months before the murder, the suspect tried to burn down their garage, put glue in the gas tank of their car and made numerous threatening phone calls.
Neighbors say the Chang family lives quietly and apparently tried not to bother others with their problems.
The victim's father said the suspect, apparently upset when she turned aside his advances, was arrested last fall after allegedly breaking windows at the Chang home and putting glue in the tank of the family car, The Associated press reports.
A few months before Penny's death Strothers had pleaded guilty to harassing her by telephone over a two-week period and criminal damage for placing glue in car locks at the Chang home. He underwent a psychiatric evaluation after those incidents.
Some people think it was just a case of mental illness?!?!?!?! The ultimate irony is that the suspect will never face the death penalty!
Strothers' own diary shows that he clearly understood what he was doing when he killed Penny. That evidence helped lead to a plea agreement just before he was to go on trial. Under that agreement, he pleaded guilty and was sentenced to a prison term of 23 years to life.
In a diary that ended the day before the killing, Strothers pondered numerous ways of killing Penny, with whom he had long been obsessed, and numerous justifications for the act.
Ching L. Chang, the girl's father, complained bitterly of the law's inability to deter the killing, and cited other evidence of premeditation in saying he would have preferred a death sentence for Strothers.
Stalking in the Asian American community tends to be underreported, according to Carol Ito, past president of the Women's Commission on the Status of Women in San Francisco. "Often times, people don't take it as seriously, we don't report ... there is usually a pattern of behavior leading up to a serious crime ... There is a lot of public education needed."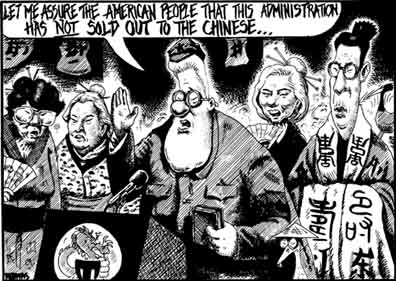 OFFENSIVE COMIC STRIP @ NY POST
The New York Post ran an editorial cartoon by Sean Delanos yesterday, Wednesday, May 26, 1999, depicting Bill Clinton assuring the American people that "...[his] administration has not sold out to the Chinese." Clinton was surrounded by his wife, Al Gore, Tipper Gore and Janet Reno, all drawn to resemble caricatures of Asians, similar in style to the controversial New Republic cover from a few months ago. In fact, Mr. Delanos' cartoon wasn't even limited to derogatory images of Chinese but also Japanese as well.
1999

PRESIDENT'S EXECUTIVE ORDER ACKNOWLEDGES APA/API'S GROWTH
WASHINGTON, D. C. --- After nearly 15 years of pushing, Asian Pacific American advocacy organizations have witnessed President Clinton signing a historic executive order establishing an Asian American Pacific Islander Initiative which took place on June 7 at the Oval Office. The AAPI Executive Order ushers a public policy designed to improve the quality of life of individuals in the APA communities by increasing their participation in federal government programs where they are most likely to be under served, such as health, education, housing, labor, economic and community development - while addressing their long-neglected health/human service needs.

The above-mentioned "Executive Order" states " On June 7, 1999, President Bill Clinton signed an Executive Order titled "Increasing Participation of Asian Americans and Pacific Islanders in Federal Programs." It establishes the White House Asian and Pacific Islander Initiative. The Executive Order will seek to improve the quality of life of Asian Americans and Pacific Islanders through increasing overall participation in federal government programs where they are most likely to be under served."

According to the US Census, as of July 1998, there are approximately 10.4 million AAPI in the United States or nearly 4% of the total population. AAPI had the highest rate of population growth between 1990 and 1998 among all racial and ethnic populations, a 37% increase. Sherry Hirota, Executive Director of Asian Health Services in Oakland (click HERE for further info Asian Pacific American Health Issues), CA, states that the Executive Order "will allow our communities to build a national bridge into the 21st century between the Asian and Pacific Islander communities and the administration." By the year 2020, the AAPI population is expected to reach 20 million.
1999

FIRST WOMAN GRADUATE OF VMI: ASIAN CADET
Taiwan-born Chih-Yuan Ho made history when she became one of the two first female graduates of the 150-year-old Virginia Military Institute (VMI), a state-supported all male bastion until a 1997 ruling of the Supreme Court cracked its doors to women students.
Cadet Ho earned a Bachelor of Science degree in psychology and wore academic stars signifying a 3.5 grade point average over the last semesters. She and Melissa Graham of Burleson, Texas received their VMI diplomas last May 15th in the collegeís first public graduation ceremony ever, held in its scenic Shenandoah campus in Lexington, a quiet little town between Roanoke and Charlottesville. Founded in 1839 as the nation's first state-supported military college, VMI has been offering B.A. and B.S. degrees in the sciences and the humanities.

JAPANESE AMERICAN NATIONAL MUSEUM OPENS!
The Japanese American National Museum opens! The Japanese American National Museum is the only museum in the United States dedicated to sharing the experience of Americans of Japanese ancestry. The founding of the Museum is a story of high hopes, remarkable achievements, frustration, and ultimately, success. Like the saga of generations of Japanese Americans, it is a story of tenacity. Read their story - The Museum is a defining moment for Japanese Americans, and another of their contributions to America - at the Los Angeles Times

KINGMAN QUON IS CONVICTED
Chinese American Kingman Quon, 22, is sentenced to two years at a federal boot camp for young offenders in June after sending threatening e-mail messages to Latinos. The messages have statements like Kill all wetbacks.

WON-JOON YOON IS KILLED
Benjamin Nathaniel Smith, 21, goes on a shooting spree over the July 4 weekend, targeting Jews, Asians and African Americans. He wounds six Orthodox Jews and kills Korean student Won-Joon Yoon, 26; and African American Ricky Byrdsong before shooting himself.

JOSEPH ILETO IS KILLED
On Aug. 10, white supremacist Buford Furrow wounds five people at a Jewish Community Center before gunning down Filipino American postman Joseph Ileto. If convicted, Furrow could face the death penalty. The case has been delayed because of the alleged "thorny mental health issues" and the government's decision to seek the death penalty. U.S. District Court Judge Nora Manella wrote that the case will raise "novel questions of law."
1999

SANDRA TSING LOH & STEVEN PARK
On Wednesday: December 15, 1999 - Sandra Tsing Loh was the host of the CBS show called "Later" and interviewed Steven Park. One of the few times where a network show had an Asian Pacific American (Sandra Tsing Loh - ok, half German/half Asian) interview another Asian Pacific American (Steven Park)! It's a start!

CAA ADDRESSES THE CENSUS UNDERCOUNT OF APA'S!
CAA (Chinese for Affirmative Actions) successfully advocates for the creation of $25 million dollars in state funds and $350,000 in local funds to support community and ethnic media work on Census 2000 to address the dramatic undercount of Asian Pacific Islanders and other hard-to-count communities.

NAOKI KAMIJIMA - VICTIM OF A HATE CRIME
Naoki Kamijima was a victim of a hate crime on April 5, 1999. He was fatally shot in his store in Crystal Lake, Illinois on April 5, 1999. This was a hate crime because prior to entering Kamijima's general store, alleged assailant Douglas Vitaioli entered another store with a weapon, asking what the ethnicity of the employees were. Soon thereafter, he entered Kamijima's store and shot him. Vitaioli is charged with first degree murder and a hate crime.

WEN HO LEE
OFFICIAL WEBSITE for Dr. Wen Ho Lee's can be access by clicking HERE.
INDICTMENT of Dr. Lee can be viewed by clicking HERE.
THE AFFIDAVIT of Dr. Lee is listed HERE that is in "support" of a search warrant for Dr. Lee's house.
WASHINGTON POST OVERVIEW is listed HERE.
THE STORY - Wen Ho Lee is accused of providing secrets to the Chinese government from his place of work (Los Alamos National Laboratory), despite not having enough evidence to convict. At Los Alamos National Laboratory, which employs roughly 10,000 people, one common comment by lab employees, almost always made anonymously since Lee's arrest is: If this can happen to Wen Ho Lee, it can happen to any of us. He is the apparent "convenient" victim to cover up a pattern of security lapses of military secrets that even extends to other members of his family. Even top security doesn't believe the accusations made towards to Wen Ho Lee! They are surprised at his treatment, considering what happened to John Deutch in 1996 and the light treatment he received for his serious breaches of security!
WHY BAIL WAS REFUSED - Read about the latest developments on the judge refusing bail because of an "unprecedent threat" threat to national security, the Cox Committee Report to get an overiew of the situation, reporter's opinions on the validity of the Cox Report, the report from the FBI, the many news articles on the situation, other information in the media or a forum devoted to describing the very unfortunate circumstances surrounding this innocent party of other people's fallacies and racism, learn what his family plans to do, learn how Iris Chang (author of "Rape of Nanking") felt about being improperly used in this case and learn which organizations are publicly SUPPORTING him!
80-20'S INVOLVEMENT - 80-20's response is seen in their December 15, 1999 letter that can be accessed by clicking HERE.
HOW TO GET INVOLVED - If you want to lend a needed hand, please visit HERE to find out how!?! The Asian Pacific American communities should see this as a "wake-up" sign as a call to activism, tangible actions and closely monitoring the media to effect positive changes in the general public's incorrect assumptions and stereotypes of our communities!
COMMITTEE OF 100'S INVOLVEMENT - The Committee of 100 asks Janet Reno for integrity and honor in treating this case. A strong coalition of APA organizations unite in their common belief of the unfair fashion Dr. Wen Ho Lee has been treated. They have brought up their concerns to President Clinton with the hope that the Chinese American community will be treated fairly.
Latest Updates as of March 28, 2000
EFFECT ON ASIAN AMERICAN SCIENTISTS - Jeb Sharp, a reporter for the Boston BBC affiliate (The World), has posted her second story about the Wen Ho Lee case on-line. This segment covers the recent teach-in held at Harvard and the damaging impact the case has had in recruiting Asian-American scientists at national security laboratories.
AN ORGANIZATION'S SUPPORT - Asian Pacific American for Higher Education (APAHE) passed a resolution on it's 13th annual meeting committing their members to organize campus forums throughout the U.S. to bring the case first to students on campuses across the nation and then to the American people.
NORMAN BAY - His CIPA appeal based on 5th was denied. Lee is now allow to speak chinese while being jailed but he is in solitary confinement - only his defense and his immediate family are allowed to see him. There was a 3/22/2000 rally for his defense. Bob Gorence is now the lead prosecutor Norman Bay, a Chinese American attorney, has been nominated by Attorney General Janet Reno to replace John Kelly as the US Attorney for that federal district.
DEFENSE PREDICTED: The data files while classified secret were publically available from other other sources at the time the copying was done and therefore the loss of the data tape did not present a danger to the US National Security. Other peoples who have mishandled US secrets have not been so prosecuted - there is evidence of racial profiling and no evidence of actual wrongdoing. The tapes were destroyed.
PROSECUTION PREDICTED: The tape data file are classified secret and Wen Ho Lee actions were risky and suspiciously dangerous to US National security. Unauthorized manipulation and transport of Weapons technology hould be punished to the maximum the current laws allow. Tapes are government property and are missing and Wen Ho Lee is responsible.
KEY JUNCTIONS: Jury selection still has to be done and will be more important to Wen Ho Lee /the defense than the prosecution.
TRIAL DATE - Wen Ho Lee's Trial is set for November 6, 2000
Latest News (as of July 5, 2000) from Washington Post Staff Writer - Vernon Loeb.
RACIAL PROFILING - Attorneys representing Wen Ho Lee have filed their long-awaited selective prosecution motion, arguing that the former Los Alamos physicist was singled out for investigation as a possible spy and ultimately charged in December with downloading nuclear warhead design codes because he is an ethnic Chinese American.
THE NOTION - filed June 23 in Albuquerque, states that Lee is the only person ever charged under the "draconian" life imprisonment provisions of the Atomic Energy Act for mishandling information that wasn't classified and wasn't transferred to unauthorized individuals. The motion includes a sworn declaration by Robert Vrooman, former chief of counterintelligence at Los Alamos, which reads: "I state without reservation that racial profiling was a crucial component in the FBI's identifying Dr. Lee as a suspect."
LEE'S ATTORNEYS' - filed the motion to force the government to turn over documents from numerous other cases in which individuals were not criminally prosecuted for mishandling secrets. Among them: former CIA director John M. Deutch, who drafted secret memos on unsecure home computers.
GOVERNMENT OFFICIALS - who deny targeting Lee on the basis of race, must respond by July 14. Especially important since US Attorney Norman C. Bay stated that Lee "need not have decided on a particular foreign nation at the time" he downloaded a trove of nuclear data from computers at Los Alarnos National Laboratory.
CIRCUMSTANTIAL INFORMATION DOWNLOADED - Interesting news since it was reported that "the evidence appears mostly circumstantial and includes the letters recovered in the FBI search of Lee's home and office, a notebook containing detailed notes of what he copied onto the tapes and the timing of his actions. He stopped most of the downloading in 1994, when he was told that he had survived the cutbacks."
LEE'S WIFE WORKED FOR THE FBI! - Interesting tidbit: Wen Ho Lee's wife worked for the CIA when she was a secretary at Los Alamos National Laboratory in the 1980s, a revelation that defense attorneys will use to attack the government case against the scientist accused of betraying America's most sensitive nuclear weapons secrets. Click HERE for more information.
NORTA TRULOCK III - the former director of intelligence at the Department of Energy who reportedly was responsible for ethnic/racial profiling of chinese scientist for espionage at at DOE Nuclear weapons labs, has had his home computer equipment seized by the FBI following allegations by the CIA and other federal agencies that Trulock attempted to publish an article containing classfied information. Trulock was the orginal DOE investigators who alleged Wen Ho Lee a spy.
LEE IS FREE? - Supposedly, Dr. Lee will be free in the first week of September - hopefully!?!?! Defese faces a critical time on September 19, 2000 where the judge will conduct a closed-door hearing then on whether he will allow Lee's lawyers to use highly classified evidence about nuclear weapons in open court. If the judge sides with the defense, the government will face the dilemma of whether to allow public release of those secrets--or to drop the charges altogether.
FREE AT LAST - On September 13, 2000 - Dr. Wen Ho Lee is finally free, after many delays from the initial date of release. Click HERE to read the court transcript. Please note Page #47.
COURT TRANSCRIPTS - Listed below are some highlights from the court transcripts listed above.
In my opinion, you have been punished harshly, both by the severe conditions of pretrial confinement and by the fact that you have lost valuable rights as a citizen.
THE LAW ABOUT "BAIL" - Under the laws of our country, a person charged in Federal Court with commission of a crime normally is entitled to be released from jail until that person is tried and convicted. Congress expressed in the Bail Reform Act its distinct preference for pretrial release from jail and prescribed that release on conditions be denied to a person charged with a crime only in exceptional circumstances.
A COROLLARY QUESTION - Why were you charged with the many Atomic Energy Act counts for which the penalty is life imprisonment, all of which the Executive Branch has now moved to dismiss and which I just dismissed?
LEE TERRIBLY WRONGED - Further, I feel that the 278 days of confinement for your offense is not unjust; however, I believe you were terribly wronged by being held in custody pretrial in the Santa Fe County Detention Center under demeaning, unnecessarily punitive conditions. I am truly sorry that I was led by our Executive Branch of government to order your detention last December.
Dr. LEE, I tell you with great sadness that I feel I was led astray last December by the Executive Branch of our government through its Department of Justice, by its Federal Bureau of Investigation and by its United States Attorney for the District of New Mexico, who held the office at that time.
I AM SAD FOR YOU and your family because of the way in which you were kept in custody while you were presumed under the law to be innocent of the charges the Executive Branch brought against you.
EMBARRASSMENT - It is only the top decision makers in the Executive Branch, especially the Department of Justice and the Department of Energy and locally, during December, who have caused embarrassment by the way this case began and was handled. They did not embarrass me alone. They have embarrassed our entire nation and each of us who is a citizen of it.
PRESIDENT CLINTON stated the following on September 14, 2000:
"The whole thing was quite troubling to me, and I think it's very difficult to reconcile the two positions that one day he's a terrible risk to the national security and the next day they're making a plea agreement for an offense far more modest than what had been alleged"
He stated that he "always had reservations" about the claims mounted by federal prosecutors to deny Lee bail. . . . .
The president said there's no justification for keeping someone in custody without bail if the case moves so easily to a plea agreement.
When asked about offering Lee clemency, Clinton said the former scientist is still pleading guilty to a substantial charge, but that he would look into the matter.
"It means he spent a lot of time in prison that any ordinary American wouldn't have, and that bothers me," the president said.
JANET RENO stated the following: Earlier, Attorney General Janet Reno said she felt the government "made the best decision" it could "based on the evidence and the law" in the Lee case and that she felt "very comfortable about that."
When asked Thursday if the former Los Alamos scientist deserved an apology, she said that Lee was given an opportunity from the onset to resolve the problem and "he chose not to."
U.S. District Judge James Parker told Lee that he "deserved to be punished" but that he had been "punished harshly." Parker went on to criticize federal prosecutors and investigators for holding Lee in solitary confinement, saying their actions had "caused embarrassment."
Reno said in her daily briefing that she was "not embarrassed."
BRIAN SUN - Wen Ho Lee's attorney, asserted that Wen Ho Lee will continue to pursue his civil lawsuit against the government.
PLEA BARGAIN - As part of his plea bargain, Lee waived his right to sue the government under the so-called Hyde Amendment, which allows "prevailing parties" in criminal cases to recover costs and legal fees if they can prove the government's prosecution was frivolous. Lee also waived his right to additional government disclosure in the case, meaning he cannot continue to seek evidence from prosecutors and use it to attack his guilty plea on the basis of new information.
But nothing in the plea agreement prevents Lee, a naturalized U.S. citizen born in Taiwan, from filing additional lawsuits against the government alleging racial profiling or other civil rights violations, said John Cline, one of Lee's attorneys.
The Aftermath
CLINTON UPSET - San Francisco Gate's Jon Carroll writes about how President Clinton was "upset" on how the case was handled in the Executive Branch!?!?!?!
GOVERNMENT SECRETS - Washington Post talks about the "government secrecy" is being handled and watched - with much variance in how it is enforced!?!?!
EFFECTS OF THE CASE - LA Times reported the this case has affected the California congressional race between James. E. Rogan (R-Glendale) and Adam Schiff (D-Burbank). Rogan particularly objected that Lee was held for months in solitary confinement facing dozens of criminal charges, while Reno has not taken the same aggressive stand in pursuing allegations that former Central Intelligence Agency Director John Deutch downloaded highly classified material on unsecured personal computers at his home." Dr. Lee was in prison, Deutsch was free!
JUDICAL WATCH - believes that freeing Dr. Lee effectively seeks to exonerate the Clinton-Gore Administration itself of gross negligence and/or complicity in the massive security breach at the Los Alamos Nuclear Labs. They also believe that this action is related to government's dealings with John Deutsch. who claimed outrageously that he was being singled out for racial reasons. They believe that Dr. Lee "should have 'the book' thrown at them.
JOHNNY CHUNG - of WorldNet Daily of how he "registered myself as a Democrat, I (he) thought Democrats were looking after minorities and poor people. But as soon as the government screws up and our national security is compromised, who is the first person to get the blame? Wen Ho Lee -- an Asian-American. Then as soon as it becomes clear there isn't enough evidence to pin all the blame on Lee, President Clinton says he is confused with the actions of those officers who took Lee into custody, implying that Lee was imprisoned solely because of the slant of his eyes. Yet, it was Clinton's administration that locked Lee up in the first place.
UNANSWERED QUESTIONS - Washington Post's Vernon Loeb and Walter Pincus states that there are some questions that still not have been answered. Read what they say and their overview of the situation.
NORTA TURLOCK'S TAKE - Judicial Watch states that Notra Trulock, the patriotic Energy Department whistleblower who exposed the breach of national security at the Los Alamos Nuclear Laboratory, will file a complaint for defamation against Wen Ho Lee and others. Judicial Watch believes that Dr. Wen Ho Lee attempts to skate from charges that he breached national security and uses the race card as a convenient tool to scare politicians and the courts from proceeding.
SPIN CITY - A comment in the Washington Post states that it went after Dr. Lee with a vengeance, then proudly announce that they've negotiated cooperation after dropping 57 of the 58 charges!
LEE'S ADDITIONAL TAPES - As reported in in the San Jose Mercury News, President Clinton said Friday (Sept. 15, 2000) that Lee's nine-month pretrial detention conflicted with America's disdain for ``abusive executive authority.'' But Clinton said he had seen no evidence of racial profiling in the case. The article also reports that Dr. Lee had made additional copies of the tapes in question and disclosed that was one of the reasons why there was a dely in Dr. Lee's release.
APOLOGY DEMANDED - The Asian American leaders demand White House action on September 18, 2000 states that a special commission investigate whether racism played a role in the prosecutors' treatment. Request was stated at a "town hall meeting" organized by the White House Initiative on Asian Americans and Pacific Islanders, a forum created by President Clinton last June to address issues affecting Asian Americans. The National Asian Pacific American Bar Association and the Organization of Chinese Americans in New York joined the Committee of 100 in the plea for an inquiry.
LEE'S LETTERS - Investigators in the Wen Ho Lee case say they have located correspondence that shows some job-hunting letters the scientist sent drew responses from prospective employers.
WHAT DOES THE GOVERNMENT HAVE - Read in the LA Times what the government might have to disclose in their thousands of classified documents on why it had singled out Wen Ho Lee!
CIVIL LAWSUIT - Brian Sun stated that Dr. Lee will proceed with a civil lawsuit alleging that the government officials violated federal privacy statues by identifying him as an espionage suspect and leaking confidential job-related information to the media. For more info, click HERE.
NIGHTLINE SHOW - Nightline Transcript can be found by clicking HERE. Discover what Norman Bay, Kathay Feng, Robert Kim, Robert Vrooman, Mark Holscher and others said.
PROSECUTION ERRORS - In the Washington Post, an analyst believe the following prosecution errors were made. Reno assesses damage after FBI agent Messemer testimony is found to be incorrect. Freeh gives up on punishing Lee and focuses on the deposition of the tapes. Clinton realizes the case was botched up. After the Plea Agreement, the FBI spin control (public relations) attempt to depict Wen Ho Lee as having committed an serious security breach and assert that the prosecution would have still gotten a conviction.
CONGRESSMAN'S CONCERNS - Charles E. Grassley (Chairman - Subcommittee on Administrative / Oversight and the Courts) writes to Arlen Specter on March 8, 2000 of his many concerns regarding the prosecution's "case."
LEE WAS A FBI INFORMANT! - Read in the LA Times about Prof. Lee and his wife acting as FBI informants, how he was suspected after he was dismissed and on why China would steal the plans THEN reveal that fact!?!?!
RACIAL PROFILING - Listed HERE is Robert Vrooman's statement given to the government that states his belief that Dr. Lee was targeted because he was Chinese.
REPUBLICAN'S SPIN - Read HERE how the Republicans couldn't decide whether this was a case of "the biggest security breach of our times" or his belief that "there's a real dichotomy" between the way Lee was treated as compared to former CIA director John Deutch - (Senate Trent Lott - Senate Majority Leader).
HOW THE REPUBLICANS MIGHT BE INVOLVED - Learn, by clicking HERE why the Republicans were involved with the case.
TRULOCK'S MISCONDUCT TOWARDS MINORITIES - Other high-ranking minority officers (Charles E. Washington) comments of Notra Trulock's prejudices. In his role as Acting Director of Counterintelligence at the U.S. Department of Energy, he believes "that Mr. Trulock improperly targeted Dr. Lee due to Dr. Lee's race and national origin." He "strongly believe that he (Trulock) acts vindictively and opportunistically; that he improperly uses security issues to punish and discredit others, and that he has racist views towards minority groups." In addition, he stated that "I am a black man of African-American origin, and I personally experienced his misconduct, and I know of other minorities who were victimized by Mr. Trulock."
FBI TARGETED LEE - was what Trulock told the Senate Judiciary Committee! Click HERE for more info!
MEDIA'S VIEWS OF THE CASE - Read HERE what other American publications have stated about this case.
AAAS CONCERNS - Click Irving A. Lerch (Chair, AAAS Committee on Scientific Freedom and Responsibility) expressing his great concerns to Janet Reno.
MR. GRAHAM'S CONCERNS - Read the transcript dated Sept. 14, 2000 (Senate Congressional Records) the following by Mr. Graham - "First of all, I don't understand an administration that stands up and damns racial profiling and yet engages in it when it suits their political agenda.
JANET RENO'S WORDS - Click HERE to read Janet Reno's comments regarding this case. One of the questions included to the following: Are you quite sure that Mr. Wen Ho Lee going free is not going to be a security risk, that he is going to come forth, as he has promised? Of which her reply was "I have decided that this is the best way I can find to try to get to the truth as to what happened to the tapes and the information.
N.Y TIMES' FLAWED COVERAGE - The New York Times, which played a leading role in stories about fired Los Alamos physicist Wen Ho Lee, acknowledged in an extraordinary 1,680-word note from the editors today that its coverage was flawed. Click HERE for more info. For a non-biased (Salon.Com) review of the situation, click HERE and HERE.
CASE OVERVIEW - To get a review of the Counter Intelligence "Cases" - click HERE! http://www.fas.org/irp/ops/ci/
LA TIMES OVERVIEW - Check out a review of the entire Wen Ho Lee case by Evelyn Iritani of the LA Times.
SENATE HEARINGS - Witness how the government people are defending themselves by clicking HERE.
SENATE HEARINGS - Witness how the government people are defending themselves by clicking HERE.
STEPHEN YOUNGER'S WRITTEN STATEMENT - (Associate Laboratory Director for Nuclear Weapons Los Alamos National Laboratory) before the Senate Judiciary Subcommittee on Administrative Oversight and the Courts. For more info, click HERE.
NOTRA TRULOCK'S WRITTEN STATEMENT - (Former Director, Intelligence Department of Energy) before the Senate Judiciary Subcommittee on Administrative Oversight and the Courts. For more info, click HERE.
DR. JOHN RICHTER'S WRITTEN STATEMENT - before the Senate Judiciary Subcommittee on Administrative Oversight and the Courts. For more info, click HERE.
ROBERT VROOMAN'S WRITTEN STATEMENT - before the Senate Judiciary Subcommittee on Administrative Oversight and the Courts. For more info, click HERE.
ATTORNEY GENERAL JANET RENO'S WRITTEN STATEMENT - before the Senate Judiciary Subcommittee on Administrative Oversight and the Courts. For more info, click HERE.
US ATTORNEY NORMAN BAY'S WRITTEN STATEMENT - before the Senate Judiciary Subcommittee on Administrative Oversight and the Courts. For more info, click HERE.
T.J. GLAUTHIER'S TESTIMONY - (U.S. Department of Energy) before the Senate Judiciary Subcommittee on Administrative Oversight and the Courts. For more info, click HERE.
ATTORNEY GENERAL JANET RENO & FBI DIRECTOR LOUIS J. FREEH'S PREPARED STATEMENT - before the Senate Judiciary Subcommittee on Administrative Oversight and the Courts. For more info, click HERE.
JANET RENO'S DENIALS - She stated that "Dr. Lee is no hero. He is not an absent-minded professor. He is a felon," Reno said.
RENO AND FREEH CRITICIZED - "Their saying they only heard about it for the first time is unbelievable," said Helen Zia, an official with the Coalition Against Racial and Ethnic Scapegoating. Lee's lawyers said they raised the issue with prosecutors soon after Lee's imprisonment last December. Click HERE for more info.
LEE'S DOWNLOADED SECRETS COULDN'T BUILD A BOMB - "CIA Director George Tenet said nuclear secrets downloaded by scientist Wen Ho Lee would offer another country "a graduate course in nuclear weapons design," but not the means to actually build a bomb, according to a written statement to the Senate Intelligence Committee. For more info, click HERE for more info.
INDEPENDENT COMMISSION URGED BY CONGRESSMAN UNDERWOOD - Congressman Robert Underwood urges President Clinton to establish an independent commission to investigate the Wen Ho Lee case.
VIEW OF N.Y. TIMES' APOLOGIES - "Carefully crafted and qualified like a lawyer-vetted brief, the story, with its front-page teaser and 1,500-word spread, will certainly be remembered as one of the (N.Y.) Times' most dramatic explorations of its own shortcomings. At times a laundry list of coulda, shoulda, wouldas, the appraisal is both candid and defensive, admitting both serious, journalistic blemishes while steadfastly maintaining that the paper's work is, essentially, accurate." Click HERE for more info.
OBJECTIVITY IS CHALLENGED - Sen. Charles Schumer, D-N.Y. urge U.S. Attorney General Janet Reno to permit an independent inquiry into the Justice Department's handling of its case because the congressional hearings are tainted by politics. "Only an independent investigation, not partisan wrangling and finger-pointing, will give the American public - and especially the Asian-American community - confidence that this case is being reviewed in a wise and fair manner," Schumer said in a letter to Reno. (Schumer is a Judiciary Committee member serving on the Senate's joint Judiciary-Intelligence Committee panel investigating the government's role in the Lee case. For further info, click HERE.
ENERGY SECRETARY (BILL RICHARDSON) "ACTS" AGAINST RACIAL PROFILING - Richardson said he would ``not tolerate even hints'' of racial profiling and ordered his inspector general to investigate whether any such activity has occurred. ``We have made progress addressing concerns of racial profiling, but more needs to be done,'' Richardson said. For more info, click HERE.
DEUTSCH'S JOURNAL CAN'T BE FOUND - Pentagon investigators have been unable to locate computer diskettes that ex-CIA Director John Deutch used to store a journal when working at the Defense Department, officials say. The journal contained classified information. Click HERE for more info. (interesting that Deutsch has not been in jail, as of yet for his crimes)
RENO: LEE DOCUMENTS TO BE DECLASSIFIED - Attorney General Janet Reno, addressing a group of Asian-American lawyers Saturday, again defended the Justice Department's prosecution of former nuclear scientist Wen Ho Lee and said she would move to declassify documents related to the case. For more info, click HERE.
WEN HO LEE DEBRIEFING - On October 17, 2000 - "It is the first time the former Los Alamos scientist has faced FBI questioning since the March 1999 interrogation when agents likened Lee to Julius and Ethel Rosenberg, suggesting he was also fated to the electric chair." For further info, click HERE.
CHINESE SPY PROBE SHIFTS TO MISSLES - A new review of Chinese military documents provided by a defector in 1995 has led U.S. intelligence agencies to conclude that Chinese espionage has gathered more American missile technology than nuclear weapons secrets, senior U.S. officials said. For more info, click HERE.
COUNTERINTELLIGENCE EXPERTS REPORTS - Paul D. Moore reports that Wen Ho Lee's activities gave many indicatations that would bring suspicion upon himself, but not guilt. However, Moore stated that "To say that these things do not have a political dimension is just crazy . . . . Still, the basic problem is, they're looking for things that aren't there." For further info, click HERE for more info.
JOHN L. RICHTER - one of the legendary designers of the Los Alamos National Laboratory stated that the Wen Ho Lee situation "raises the specter of selective enforcement of the laws." For further info, click HERE.
SELECTIVE PROSECUTION - in previous cases (i.e. Code Name: Buffalo Slaughter & Tiger Trap), there was an alleged serious breach of national security - yet the scientists were not prosecuted and the essence of the espionage case has never previously been made public, according to present and former U.S. officials. This is in stark contrast to the Wen Ho Lee case. For further info, click HERE.
WEN HO LEE MISSING IN THE DEBATES - As visible as some Chinese Americans and Asian Americans are becoming in this increasingly multicultural society, Wen Ho Lee remains bafflingly invisible to the two men who would be president. For more info, click HERE.
THE AFTERMATH - The fiscal 2001 Intelligence Authorization Act passed in October 2000 by the Senate could easily be renamed the National Security Scandal Response Act, containing sections inspired by the Wen Ho Lee investigation, the John Deutsch probe and a string of security gaffees at the State Department. For further info, click HERE.
MORE RAMIFICATIONS - The Pentagon is hiring 450 counterintelligence specialists to protect defense secrets after learning that China has obtained classified U.S. missile technology, including critical information about the heat shield that keeps America's most advanced missiles from burning up as they reenter the atmosphere, senior defense officials said. For more info, click (a href="http://washingtonpost.com/wp-dyn/articles/A6213-2000Oct24.html" target="blank">HERE.
FBI LOOKING FOR "MISSING" FILES - It is reported that federal agents searched the Los Alamos County landfill Tuesday amid indications that data tapes downloaded by nuclear researcher Wen Ho Lee might be buried in the rubble. Lee has said the tapes he downloaded were destroyed. For more info, click HERE.
WEN HO LEE THREW AWAY HIS TAPES - In response to the inquiries, Wen Ho Lee stated that he threw the tapes in question away after his security clearance was revoked. For further info, click HERE.
DECENBER 10, 2000 - is the first somber anniversary of the indictmant of Wen Ho Lee. It was Dec. 10, 1999 that a grand jury in Albuquerque indicted Lee on 59 counts that he mishandled nuclear weapons secrets. Lee was arrested at his White Rock home and transported to Albuquerque for the first of many federal court hearings. Click HERE for more details.
JUDGE PARKER HONORED - when he was named outstanding judge of the year by the Albuquerque Bar Association for his work on the bench and on the Lee case. In its nominating letter, Parker's staff wrote he was a fair and principled judge who demonstrated intelligence and courage presiding over the case of the former lab scientist accused of mishandling nuclear weapons information. Click HERE for more details.
LEE'S TAPES MAY BE FOUND - The FBI's crime laboratory is examining more than 10 computer tapes recovered from a New Mexico landfill, and a government official said yesterday that, judging by their "outside appearance," they could be the classified cassettes that former Los Alamos scientist Wen Ho Lee claims to have thrown into the trash. Click HERE for more details.
LEE'S ANSWERS LEAD TO MORE QUESTIONS? - Clinton didn't pardon Wen Ho Lee and the New York Times report that various answers that Lee gave to the FBI have lead to some suspicions. Click HERE for more details.
ALBERTA LEE TALKS ABOUT RACISM - The 27-year-old daughter of Wen Ho Lee said coverage of her father's case has made her a lifetime member of the Don't Trust the Media Club. Her 20-minute speech had been billed as a talk on how popular-culture forces affected her father's case, but it was more a candid recounting of her loss of innocence to the forces of racism, politics and the media in America. Click HERE for more details.
LEE DEPOSITIONS LIMITED - Citing a need to protect national security, a judge drew strict limitations on depositions Monday in a defamation lawsuit filed against Wen Ho Lee by the Energy Department's former intelligence chief.
In the suit, Notra Trulock contends Lee and two investigators accused Trulock of racial profiling in an investigation of security breaches at the Los Alamos National Laboratory, where Lee was a nuclear scientist.
Lee has sued the government for allegedly leaking information to the media to portray the Taiwan-born scientist as a Chinese spy.
REVIEW OF RACIAL PROFILING OF ASIANS ISN'T CONCLUSIVE - THE FAILURE to find racial profiling in a review of security at the U.S. Department of Energy reflects the limitations of the review rather than an accurate picture of the department. An effort launched earlier to eliminate racial bias should not be deterred by a report that no unfair treatment based on race had been found. The review was "limited to just four cases of scientists of Asian descent seeking security clearances" and was so narrow that it should be regarded as next to worthless. Click HERE for the rest of the article.
FBI MISLEAD CONGRESS - A senior FBI official (FBI Assistant Director Neil J. Gallagher) misled Congress two years ago about an espionage investigation at Los Alamos National Laboratory in which physicist Wen Ho Lee was identified as a suspect, according to the General Accounting Office.
Gallagher told a Senate committee in June 1999 that he had "full confidence" in the initial investigation by the Department of Energy. But in a June 2001 report, the GAO said Gallagher "had ample opportunity to know and should have known" about an FBI memo expressing "serious concerns" about the investigation and Gallagher's failure "to read the briefing book in its entirety."
GAO's Office of Special Investigations' report stated that "Mr. Gallagher told us that he did not lie or purposely mislead the Congress, but that he inadvertently gave incomplete testimony." Gallagher admitted that his statements "may have not been complete."
REPORTERS MUSIC DISCLOSE SOURCES - Lee, who was exonerated of any espionage-related allegations, has sued over his treatment by the government. His lawyer wants the reporters to reveal their sources to help in Lee's lawsuit. The judge has cited them for contempt of court for refusing and has ordered fines of $500 per day, though the penalty has been placed on hold while appeals are under way.
The identity or identities of the reporters' sources "goes to the heart" of Lee's case, a three-judge panel of the U.S. Court of Appeals for the District of Columbia Circuit ruled.
The reporters are H. Josef Hebert of The Associated Press, James Risen of the New York Times, Robert Drogin of the Los Angeles Times and Pierre Thomas, formerly of CNN and now of ABC. The appeals court reversed a contempt finding against New York Times reporter Jeff Gerth, saying it had been based on insufficient evidence.
Gerth, the other New York Times reporter questioned by Lee, denied knowing the identity of the sources used in stories he wrote with Risen. But he had been held in contempt anyway by U.S. District Judge Thomas Penfield Jackson, who found the "profession of ignorance" to be "not credible." Gerth also had declined to answer other questions because he said they implicated sources related to another case, a position that Jackson said "strains credulity."
The principle at stake in the CIA case — that journalists have no right to withhold testimony when called to appear before a grand jury — was first articulated by the Supreme Court in 1972. That ruling, days before the break-in at the Democratic National Committee headquarters at the Watergate Hotel in Washington, did not deter the investigative reporting that led to the resignation of President Nixon, some observers have noted.
Breaking ranks with The New York Times, Time magazine said it would comply with a court order to hand over the notes of a reporter threatened with jail for refusing to cooperate with an investigation into the unmasking of a CIA operative.
Time relented after just days after the U.S. Supreme Court rejected appeals from its White House correspondent Matt Cooper and New York Times reporter Judith Miller, who have been locked in an eight-month battle with the government to protect their confidential sources.
The magazine said the high court's action will have "a chilling effect" on journalists' work but that Time had no choice but to comply.
Interesting Statements: Thomas Jefferson made an interesting statement in 1816 (ironic, in light of the Wen Ho Lee case): "If a nation expects to be ignorant and free in a state of civilization, it expects what never was and never will be." Aldous Huxley wrote in 1937: "Good education will be fully effective only if there are good social conditions and, among individuals, good beliefs and feelings; but social conditions, and the beliefs and feelings of individuals will not be altogether satisfactory until there is good education."

JOHN MACARTHUR'S VIEWS ON CHINA'S INFLUENCE
In a monthly letter sent out by Pastor-Teacher John MacArthur of GRACE TO YOU Radio Ministries dated August 16th, 1999, MacArthur wrote the following...based on the information as he had found in the New York Times Newspaper:
"By AD 1400 China possessed the world's largest and most advanced navy. Its admiral, Zheng He, commanded an armada of 300 ships---some as long as 400 feet. Zheng's ships used balanced rudders and watertight compartments---advances that would not be introduced in Europe for another 350 years. Fifty years before Columbus set sail for the New World, Chinese ships traveled regularly to India, Siam, East Indies, Persian Gulf, and East Africa. With such an impressive fleet, it was only a matter of time before Zheng He turned his sights eastward and discovered the New World (Americas)."
"But that discovery never happened. In 1424, the death of China's emperor led to a power struggle between the progressives, who supported foreign trade and exploration, and the traditional Confucian scholars, who opposed China's involvement with foreign nations. When the Confucian scholars ultimately gained control, they ended all foreign trading and sea exploration. They ordered the great naval fleet to be dismantled and ordered Zheng He's maps and records to be burned, thus setting China into a course of isolation that would last well into the 20th century."
"China's decision to dismantle it navy dramatically shifted the course of history. Nearly 60 years after Zheng He's final naval expedition, Columbus discovered the New World, and Europe, not China, colonized the Americas."
Now here is John MacArthur's personal commentary about the above:
"One thing is certain, If China had retained its great naval fleet and continued its exploration, it would likely have beaten Europe to the New World. China, not Europe, would have colonized the continent, and Eastern economics, culture, and thinking would have prevailed in the New World."
"From a Christian perspective, China's missed opportunity represents a great blessing. There is one product we're grateful China was not allowed to export en masse to the New World---its religion. Without question. China has always been---and continues to be---a bastion of spiritual darkness. For thousands of years, its people have been enslaved by false religions. Today, China calls itself and atheistic nation, though most of its 1.2 billion population continues to worship false gods. And so we thank God for His providence. If China had crossed the Pacific Ocean in the 15th century, so too would have crossed the religious bondage that has gripped China for so long. By bringing about the death of the China's emperor and allowing Confucian scholars to seize power in 1424 AD, God preserved the New World for the spread of Christianity."
1999

ASIAN AMERICAN ARTISTRY GOES ONLINE!
This website has documented the beginnings, present activities and possible future of Asian Pacific Americans in the entertainment industry. Information on films that portrays in an accurate fashion, great music from talented artists/musicians, books from renown writers, resources throughout the US and introspective articles from the Asian Pacific Americans are featured.
Any questions regarding the content, contact Asian American Artistry
site design by Asian American Artistry
Copyright © 1996-2005 - Asian American Artistry - All Rights Reserved.