FILM HOME PAGE
Films between 1919 & 1939
Films between 1940 & 1949
Films between 1950 & 1959
Films between 1960 & 1969
Films between 1970 & 1979
Films between 1980 & 1984
Films between 1985 & 1989
Films in 1990
Films in 1991
Films in 1992
Films in 1993
Films in 1994
Films in 1995
Films in 1996
Films in 1997
Films in 1998
Films in 1999
Films in 2000
Films in 2001
IMPORTANT & NOTEWORTHY FILMS
FEATURING ASIAN PACIFIC AMERICANS

During the year of 2002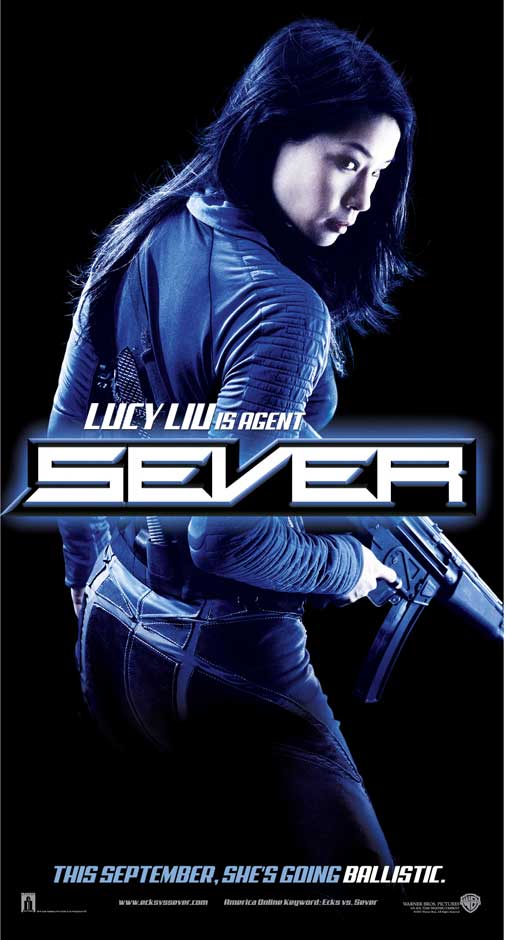 ECKS VS. SEVER


(2002)
Studio: Warner Bros.
Director: Wych Kaosayananda
Screenwriter: Alan McElroy
Producers: Elie Samaha, Christopher Lee, Andrew Stevens, Kaos
Executive Producer: Tracee Stanley
Director of Photography: Julio Macat
Writers: Alan McElroy & Peter M.Lenkov
Cast: Gregg Henry, Antonio Banderas, Ray Park, Miguel Sandoval, Norm Sherry, Terry Chen, Aidan Drummond, Lucy Liu, Talisa Soto In the deadly game of international espionage, an elite corps of anonymous operatives relentlessly battle in wars of proxy on behalf of their nation states. In a field dominated by high-tech tools, the most valuable asset is the human one - and the most prized of these is a lethally trained agent code-named Sever (Liu) - the perfect weapon.

When Sever inexplicably goes rogue,her former superiors embark on a global search to terminate her before she can reveal information that could alter the course of history.

Only the brilliant and dogged former FBI manhunter Jeremiah Ecks (Banderas) has the skills to capture her. Ecks, who resigned and guilt-ridden when his wife was killed in an explosion, is drawn to the chase by the possibility that Sever holds the secret to his wife's mysterious death.

During the course of their encounters, each realizes that the duo have a more serious problem stemming from a mysterious entity who has manipulated the two of them against each other. When Ecks and Sever come to terms with the fact that they're both employed by the same people, they form an uneasy alliance as they attempt to determine the truth about who has set them both up and what this enigmatic party's nefarious intentions might be. NOTE:

Ecks Vs. Sever is the latest video game to be turned into a big-screen movie.

WYCH KAOSAYANANDA - DIRECTOR
He (aka "Kaos") is a 28-year-old Thai director who made his homeland's equivalent of Titanic; Fah, which was at the time the highest budgeted Thai film of all time. It turned out to be a big hit and it was the vehicle that brought Kaosayananda to America and to direct Ecks vs. Sever.

ALAN B. MC ELROY - SCREENWRITER
He has proven he can write sci-fi action films (i.e. Spawn), that sell tickets, so his presence on the Ecks script is comforting. An amusing caveat here is that McElroy followed the movie about forsaken hell-spawn by writing Left Behind, a film with strong religious overtones (and financing) which are as diametrically opposed to Spawn as possible.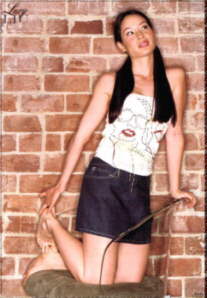 LUCY ALEXIS LIU
This 5'1" actress, born on December 2, 1967 from Chinese immigrant parents (mother is a biochemist. father is a civil engineer) in the Italian neighborhood of Queens New York, is best known for her role as Ling Woo in Ally McBeal (1998-2001).

Ally McBeal's "Ling" graduated from Stuyvesant High School in 1986 - a specialized public high school where one takes the same test is used for the highly regarded Bronx Science and Brooklyn Technical high schools,

Lucy's acceptance of herself and as an Asian American, despite feeling alienated in her youth started her road to success. This confidence was seen when at an audition for a supporting role in Andre Gregory's adaptation of Alice in Wonderland landed her the lead role in the University of Michigan at Ann Arbour production. Her success was partly due to her fluency in Mandarin, and also because of her practice of Kali-Eskrima-Silat, an Indonesian martial art with crude forms of knife and sword fighting.

Lucy graduated from the University of Michigan with a degree in Asian languages and cultures while also studying acting, dance and voice.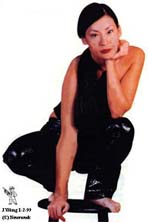 Her film work includes the following credits: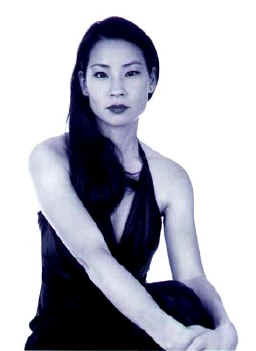 Ecks Vs. Sever (2002)
Austin Powers: The Spy Who Shagged Me." (cameo)
Hotel (2001)
Shanghai Noon (2000)
Charlie's Angels (2000)
Play it to the Bone (1999)
Molly Star (1999)
Love Kills (1999)
Flypaper (1997)
City of Industry (1997)
Jerry Maguire
Shanghai Noon/ Tombstone (1993/2000)
Payback" with Mel Gibson
Elizabeth Shue's Molly
Mating Habits of Earthbound Humans
Guy
Bang
Tupac's Gridlock'd
Jerry Maguire
Rhythm of Destiny (1992) - Hong Kong film featuring Danny Lee and Aaron Kwok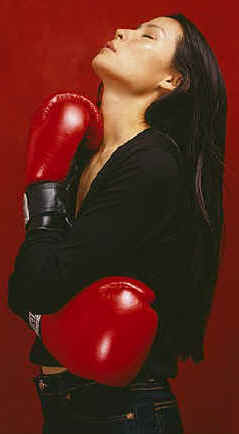 FUTURE FILM PROJECTS INCLUDE (AS OF 2002):

Kill Bill (2003)
Charlie's Angels 2 (2003)
Party Monster (2003),
Company Man
Hotel (featuring includes Salma Hayek, David Schwimmer, Burt Reynolds, Julian Sands, Ornella Muti, Valeria Golino, Chiara Mastroianni, and Valentina Cervi)
"True Crime" directed by Clint Eastwood
TV CREDITS
Her television credits includes the following
AFI's 2001 (100 years, 100 thrills)
High Incident
NYPD Blue
Johnny Quest
L.A. Law
THE X-FILES
Pearl
Beverly Hills 90210
ER
Futurama
High Incident
Nash Bridges
Hercules
Saturday Night Live
Home Improvement
Coach
ART CAREER
Lucy's first exhibition of photographs entitled "Unraveling" was at the Cast iron Gallery in SoHo New York. "Unraveling" is comprised of three main bodies of work: a series of hand-tinted photographs taken on the streets of Hong Kong; portraits of hands and feet; and a mixed-media selection from the Pro-choice Movement.
Since she majored in Asian Languages in Culture at the University of Michigan, much of Liu's work is influenced by Asian art and history, with a mixture of American pop culture.
General, hands and feet (subjects of the second portion of "Unraveling"), are, in her view, "very sensual, very passionate -- there's something very expressive about hands and feet." She feels all of us "use our feet to maintain stability, as well as to root ourselves to the earth." We also use are hands, according to Liu, to express our deepest emotions, such as speaking and writing. Our hands are also the first parts of our bodies we use to feel, to touch.
In the final portion of her exhibition, Liu attempts to tell her story behind the abortion issue.
Liu hopes her artistic imagination will enable her to reach "beyond an Asian American perspective," and to eventually "exhibit work with no boundaries."
After the exhibit, she received an art grant to study in China during the year of 1993 and won considerable praise for her 19979 exhibit of mixed-media photography in Venice California.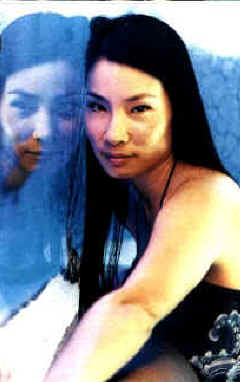 COMMUNITY THEATER BACKGROUND
Her theater credits include Numb, Redwood Curtain and M. Butterfly. She is also a member of the Met Theater Development Ensemble.
Lucy's work within the Asian Pacific American theater scene includes productions with the following theater groups: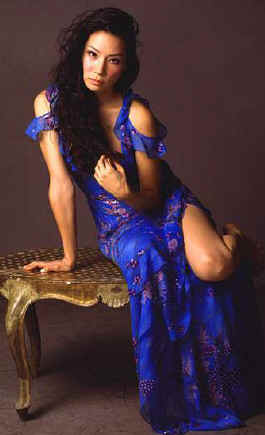 Pan Asian Repertory Theater
East West Players
David Henry Hwang's "M. Butterfly"
A Magazine's "Ammys" Award Show.
AWARDS
This recipient of 1999 SAG Award for "Outstanding Performance by an Ensemble in a Comedy Series (Ally McBeal) and the first Asian American female to host "Saturday Night Live" is fluent in Mandarin.
"LING WOO" TRIVIA
Lucy initially auditioned for the role of Nelle Porter, which went to Australian actress Portia de Rossi. But Ally McBeal producer David Kelley liked Liu so much he created a character for her. "There were six women there including myself, and I was the only woman of color," Liu said, recalling her audition. "And I thought, this is a joke, there's just no possible way I'm going to get this role."
When Liu got the call that de Rossi had the part, she didn't put much credence in the casting person's claim that Kelley liked her and that he'd write a role for her. "People say stuff all the time, especially in Hollywood," Liu said. "You don't think it's actually going to happen. And it did. And it happened quickly." Kelley later told Liu he liked her reading but thought she was too frigid. He had plans to make Nelle warmer over time.
Her breakthrough role came on September 21st 1998, on Fox's Ally Mcbeal in the Episode They Eat Horses Don't They. She took on the icy role of Ling Woo, an assertive plant manager (and ex-lawyer) suing a shock jock radio for sexual harassment.
On November 19th, 1998, Liu was to become really famous in an Ally McBeal episode. It's my party is the episode where she executed a deadly kiss with co-star Greg Germann. This piece of television history is what got her signed as a regular cast member.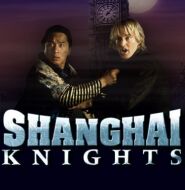 SHANGHAI KNIGHTS

(2002)
Director: David Dobkin
Screenwriters: Alfred Gough and Miles Millar
Producer: Jonathan Glickman, Roger Birnhaum and Gary Barber
Studio: Disney/Touchstone Pictures
Production company: Spyglass Entertainment
Cast: Jackie Chan, Fann Wong, Owen Wilson, Donnie Yen,
PLOT: After taming the wild west in the comedy "Shanghai Noon," Chon Wang (Jackie Chan) and Roy O'Bannon (Owen Wilson) are back in the saddle, but off the range this time, they're out to settle a score in civilized London in the sequel, "Shanghai Knights."
When a Chinese rebel murders Chon's estranged father and escapes to England, Chon and Roy make their way to London with revenge on their minds. Chon's sister, Liu, has the same idea, and uncovers a worldwide conspiracy to murder the royal family but almost no one will believe her.
With the help of a kindly Scotland Yard Inspector and a 10-year-old street urchin, the acrobatic Chon gives Victorian Britain a kick in the pants as he attempts to avenge his father's death and keep the romance-minded Roy away from his sister.
Hilarious escapades and hair-raising adventure await our heroes, as they do for Big Ben, Madame Toussaud's, and the Convent Gardens what they did for the Old West.
BETTER LUCK TOMORROW

(2002)
Writer, Director, Producer: Justin Lin
Writer, Producer, Music Supervisor: Ernesto M. Foronda
Producer: Julie Asato
Co-Producer: Joan Huang
Director of Photography: Donna Tina Charles
Music: Michael Gonzales
Cast: Karin Anna Cheung, John Cho, Roger Fan, Sung Kang, Parry Shen, Jason Tobin
PLOT: Everyone knows a person like Ben - the perfect Asian American high school teen - extremely intelligent, a perfectionist, overachiever whose tunnel vision leads to nothing less than graduating at the top of the class and acceptance to the best Ivy League university.
This product of an upper middle class, conservative suburb of Orange County, California. As Ben struggles to achieve social success in high school, we discover his darker side. Along with two friends, Virgil, a brilliant yet awkward, overeager and socially inept misfit, and Virgil's cousin Han, a lost soul with more brawn than brains, Ben leads a double life of mischief and petty crimes that alleviate the pressures of perfection.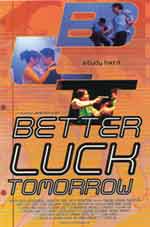 At the start of his high school freshman year, Ben befriends Daric, the senior valedictorian ? another archetypical overachiever and perfectionist. But Daric is somewhat odd. While being the most intelligent student in the class, he also seems to be the most volatile and dangerous. Behind his trusting and benevolent façade lies a lurking secret, a time bomb ready to explode.
With Daric at the helm, this group of misfit teens bands together into a suburban gang. As their adopted identity grows, Ben and the gang tumble into a downward spiral of excitement, excess, fun and growing danger. Ben's life careens out of control, into an intoxicating mix of sex, drugs and crime, leading to a surprisingly chaotic and violent end.
Better Luck Tomorrow, the first Asian American film acquired at the Sundance Film Festival, will hit theatres in 2003 - thanks to MTV Films' VP Michael Cole, which purchased domestic distribution rights to the film after its world premiere at the 2002 festival in Park City, Utah.
site design by Asian American Artistry
for any questions regarding the content, please contact Asian American Artistry
Copyright © 1996-2003 - Asian American Artistry - All Rights Reserved.