FILM HOME PAGE
Films between 1919 & 1939
Films between 1940 & 1949
Films between 1950 & 1959
Films between 1960 & 1969
Films between 1970 & 1979
Films between 1980 & 1984
Films between 1985 & 1989
Films in 1990
Films in 1991
Films in 1992
Films in 1993
Films in 1994
Films in 1995
Films in 1996
Films in 1997
Films in 1998
Films in 1999
Films in 2000
Films in 2001
IMPORTANT & NOTEWORTHY FILMS
FEATURING ASIAN PACIFIC AMERICANS

Between 1985 and 1989 (Part 1)
Click HERE for Part 2 and HERE for Part 3



(1985)
Directed by Wayne Wang
Studio: Orion
Produced by Tom Sternberg, Wayne Wang and Danny Yung
Screenplay by Terrel Seltzer
Photographed by Michael Chin
Edited by Ralph Wikke
Music by Todd Boekelheide
Cast: George Wu, Elsa Cruz Pearson, John Nishio, Cora Miao, Nora Lee, Amy Hill, Ida F O Chung, Keith Choy, Joan Chen, Jarrett Chew, Mary Chew, Helen Chew, Kim Chew, Laureen Chew, Rita Yee, Victor Wong, Victor Wong

Departing from the rough-hewn quality of "Chan Is Missing" - Wang delicately observes the misunderstandings and unspoken affection between an immigrant Chinese mother and her American daughter (played by a real-life mother and daughter).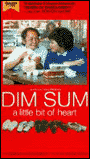 It's remarkable how Wang deals with complex set of emotions, in a movie that is essentially a comedy. Some of the scenes in "Dim Sum" are quietly funny. This is especially seen at Mrs. Tam's birthday party where a long conversation she has over the back fence with a neighbor, and the way Uncle Tam effortlessly mixes his Chinese wisdom with the lessons he has learned as a bartender.
The movie is not heavily plotted, and that's good; a heavy hand would spoil this fragile material. Wang's camera enters quietly and observes as his characters lead their lives, trying to find a compromise between too much loneliness and too much risk. At the end, everyone is more or less happy, and more or less sad, and in this movie that is satisfactory.
In conclusion, the script is richly nuanced and the performances are radiant. A wonderful film. (Pacific Arts Video)
MY BEAUTIFUL LAUNDRETTE

(1985)
Directed by Steven Frears
Cast: Gordon Warnecke, Daniel Day Lewis, Saeed Jaffrey
Skillfully scripted by Hanif Kureishi, this small British film was one of the year's most unexpected hits.
A young South Asian Englishman (Warnecke) tries to please his business-minded Pakistani family while secretly carrying on a homosexual relationship with a working class Londoner (Day Lewis).
The film deftly blends gritty "kitchen sink" realism with an aura of magic. The low-key performances are all completely on-target.

(1985)
Directed by Peter Wang
Cast: Peter Wang, Sharon Iwai, Kelvin Han Yee
A diverting comedy about a successful Chinese immigrant who returns to the old country with his new Asian American family in tow. This small film has a light touch, and it uses the inevitable clash of cultures as a way to illuminate the characters, not as the butt of cheap laughs. Reportedly the first U.S. production shot in post-revolutionary China, its view of U.S.-Chinese friendship now seems a bit too optimistic in the wake of Tiananmen Square. (Pacific Arts Video)
GUNG HO

(1986)
Directed by Ron Howard
Cast: Michael Keaton, Gedde Watanabe, George Wendt, Mimi Rogers, John Turturro, So Yamamura, Sab Shimono, Rick Overton, Clint Howard, Jihmi Kennedy, Michelle Johnson, Rodney Kageyama, Jerry Tondo, Dennis Sakamoto, Stanford Egi, Jean Speegle Howard, Thomas Ikeda, Noboru Kataoka, Mariye Inouye, Juhachiro Takada, Jun Lyle Kamesaki, Tamie Saiki, Charlie Samaha, Nann Moog, James Cash, Kim Chan, Bill Dalzell, Tak Kubota, Frank Seals Jr., Maria Barney, Kris Andersson
Cocky Keaton convinces Japanese company to reopen shuttered auto factory in his economically depressed hometown--but doesn't count on culture clash that follows. Extremely lightweight but entertaining comedy. Later a TV series. It does allow a brief glimpse of the conflicts that exists between the Japanese and American definitions of work and success.
Film takes a slight chance by having the Keaton character portray an American who is not always right and by showing the Japanese characters of having a heart of compassion. The opportunity of seeing some deserving Asian / Asian Pacific American actors working is also a big plus. One of the best things in the film is the opportunity it gives for Gedde Watanabe to play something more than a ridiculous Asian "nerd" that he plays in all the "Nerds" movies!?!?!

The Karate Kid 2

(1986)
Directed by John G. Alvidsen
Cast: Pat Morita, Ralph Macchio, Pat Johnson, Bruce Malmuth, Martin Kove, Garth Johnson, Brett Johnson, Yuji Okumoto, Joey Miyashima, Danny Kamekona, Raymond Ma, George O'Hanlon Jr., Tamlyn Tomita, Nobu McCarthy, Charlie Tanimoto, Tsuruko Ohye, Arsenio 'Sonny' Trinidad, Marc Hayashi, Robert Fernandez, Natalie N. Hashimoto, Diana Mar, B.D. Wong, Wes Chong, Traci Toguchi,
Literally picking up about five minutes after the conclusion of the 1984 The Karate Kid, this 1986 sequel, also directed by John G. Avildsen, sends Ralph Macchio's and Pat Morita's characters to the latter's home turf in Japan, where the older man is confronted by an old rival, and Macchio's newly confident fighter gets a tougher challenge than the punks back home. Sillier than its predecessor, this follow-up at least has some distracting soap opera elements in Morita's coming to terms with an old flame, while Macchio woos a lovely local girl. Ironically, it's the action that evokes laughter, particularly a climactic fight that gets over the top quickly. --Tom Keogh. In addition, it has the same story of American kid goes to Japan, meets pretty Japanese girl and fall in love. Hmmm
Big Trouble in Little China

(1986)
Studio: 20th Century Fox
Directed by John Carpenter
Cast: Kurt Russell, Kim Cattrall, Dennis Dun, James Hong, Victor Wong, Kate Burton, Donald Li, Carter Wong, Peter Kwong, James Pax, Suzee Pai, Chao Li Chi, Jeff Imada, Rummel Mor, Craig Ng, June Kim, Noel Toy, Jade Go, Jerry Hardin, James Lew, Jim Lau, Kenny Endoso, Stuart Quan, Gary Toy, George Cheung, Jimmy Jue, Noble Craig, Danny Kwan, Cary-Hiroyuki Tagawa
Once you realize this is a PARTY FILM, Big Trouble in Little China just becomes a full-tilt comic boogie blast from the Chinese martial art film archieves!
Kurt Russell is hilarious as a drawling, would-be John Wayne hero who finds himself in the middle of a supernatural war in the heart of Chinatown.
While kung-fu warriors and otherworldly spirits battle over the fate of two women (the stereotypical white blonde played by Kim Cattrall and Suzee Pai playing the traditional bride of an arranged marriage), Russell's swaggering idiot manages to knock himself out or underestimate the forces he's dealing with. The whole thing is dopey and over the top, but that is what makes it so much fun to enjoy. Carpenter directs some nifty spook effects (the sudden arrival of three martial-arts demigods from out of nowhere is worth applause), and he also wrote the music. This is a great party film for a bunch of crazies that enjoys great martial art films!!!
SLAYING THE DRAGON

(1987)

Directed by Deborah Gee
This PBS documentary blends vintage film clips with interviews of well-known faces (Kim Miyori, Amy Hill, James Shigeta, etc.) to chronicle Hollywood's blinkered understanding of Asians and Asian Americans. If you need proof to back up your gnawing doubts about the entertainment industry, here it is! (Available from the National Asian American Telecommunications Association, 346 Ninth Street, 2nd Floor, San Francisco, CA, 94103, 415/552-9550)
site design by Asian American Artistry
for any questions regarding the content, please contact Asian American Artistry
Copyright ę 1996-2003 - Asian American Artistry - All Rights Reserved.